Patricia Lim, a 28 year old aspiring writer in Singapore, is ecstatic when she inherits a huge old house from her late grandmother. With a roof over her head but with no money in her pocket, she decides to rent out the rooms and thus begins a friendship that spans borders and cultures!
Stephanie is a sweet Irish-American girl who has travelled thousands of miles to be with her fiance, only to have him break up with her upon reaching Singapore. Olaf is a New Zealander who will do anything for a quick buck. Aish is a feisty psychotherapist from India on a quest to carve out her own life and break free from the shackles of her over-bearing mother who desperately tries to match make her.
Singapore is a microcosm of the world where people from different backgrounds and cultures work and live together. The house becomes a cultural melting pot that is Singapore.
With a universal theme of friendships injected with cross-cultural differences, Rojak helps Singaporeans and foreigners connect in a fun, funky way!
As the blurb on Pat's debut novel says: Rojak is "A little spice, a little sweet, a pinch of salt and a whole lot of madness".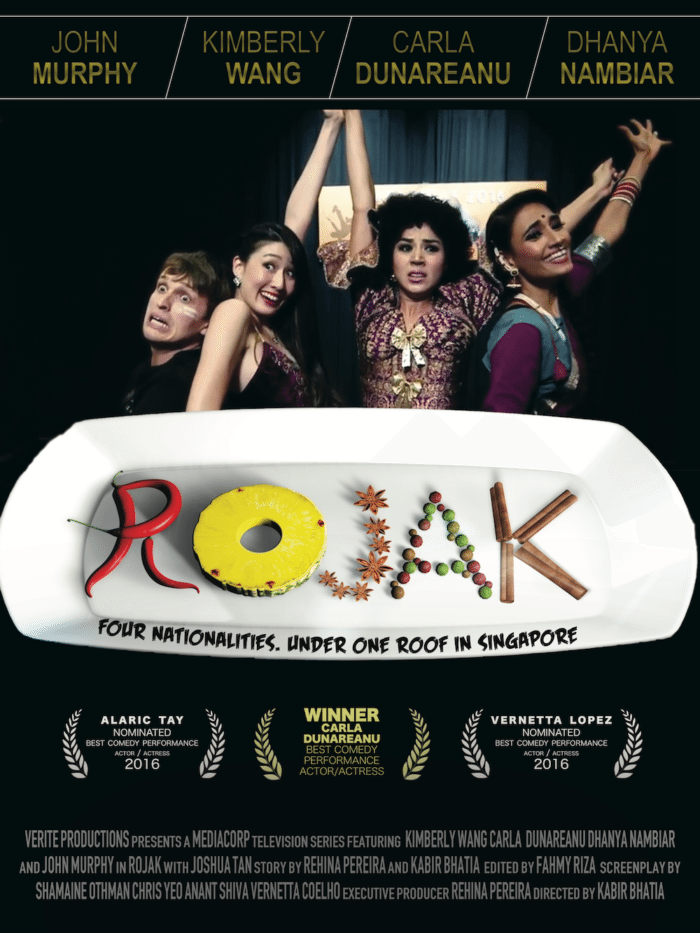 Three ATV nominations for Best Comedy Performance by actor/actress for Alaric Tay, Vernetta Lopez and Carla Dunareanu. Carla won the ATV award 2016.
Rojak received a special mention as it reached the shortlist of 20 in the MIPDrama Screenings Official selection in 2016.